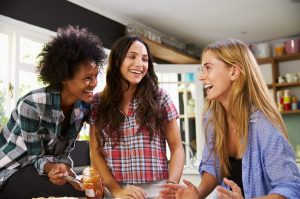 FRIENDS CAN IMPROVE YOUR HEALTH, PARTNER WITH YOU IN UNEXPECTED SITUATIONS, AND SUPPORT YOUR SAFETY TOO!
"I'm telling you, I just could not have made it through COVID without my phone and video calls! We girls kept each other going, laughing through the stress! Seriously. And now, well, it's Spring! So, all three of us are just counting the days till we can get away together! I feel better already – just anticipating it!"
"Our three kids play together online! Little kids…couldn't go anywhere, no play dates, no anything! Then we connected them on video and, BAM! They were laughing and singing goofy songs. Kesha KNEW the goofy songs…I'm hopeless on the song stuff!"
"We went to Patricia's house when our electricity went out and stayed three days until it came back on! I'm not sure what we'd have done if Patricia hadn't been our safety net!"
There's an old saying that a cord of three strands is hard to break! It's true of a rope, for sure! And it's true about friendships, too! The Centers for Disease Control (CDC), a great resource for free health tips, wrote an article called, "Three Reasons to Phone a Friend Today!"1 Check it out: https://blogs.cdc.gov/publichealthmatters/2020/12/call-friends/
You need an out-of-town friend.
Conversation is a powerful coping tool.
Talking improves preparedness. (https://www.cdc.gov/prepyourhealth/)
We have friendly staff just waiting to meet you too! We'll share an amazing combined focus of healthcare and lifestyle that is full of great medical care, sensitivity to your needs, and the wisdom of our health care pros. Come get support for YOUR best health, YOUR life, and YOUR hopes for your future. 
CDC, "Three Reasons to Call a Friend Today!" https://blogs.cdc.gov/publichealthmatters/2020/12/call-friends/